Doing projects involving volunteers can be frustrating. Trying to find the names of owners, writing letters, hoping for response. Not so much fun. But, when people do respond, their generosity and good will is overwhelming.
Richard showed me his collections. Friends and family have been telling him he should get rid of his stuff. But he likes doing it. He wanted me to have this Thomas Kinkade plate.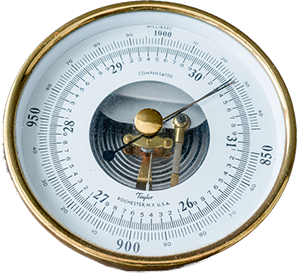 Bob, original owner, designer,tinkerer and loving husband to Minerva, pulled this barometer off the wall and gave it to me.